WHERE THE PLANS TELL THE TALES – Finalist of Festival des Jardins de la Côte d'Azur 2021 – In collaboration with Architect Andrea Russo
The garden is inspired by the literary masterpiece "Decameron" written by Giovanni Boccaccio in the fourteenth century.
The masterpiece tells of a group of seven young women and three young men, who decide to leave the city of Florence to escape the plague of 1348 and to move to the peace of a villa surrounded by nature in the Tuscan countryside.
To keep away sadness, the ten young people decide to meet every day in the walled garden around the central fountain to tell each other a story, in turn, for ten days.
Our project, in a symbolic key, proposes 'hortus conclusus', typical of the Middle Ages, ideally separated from the outside world by a sequence of Cupressus sempervirens, at the feet of which four regular borders of Buxus sempervirens are planted and pruned in spherical form.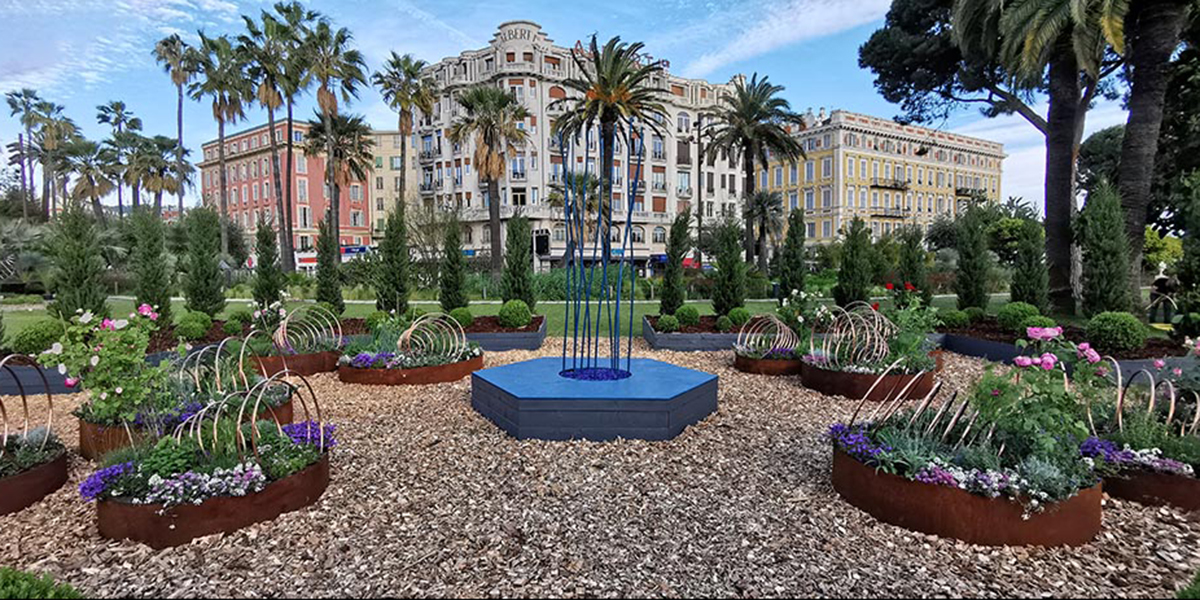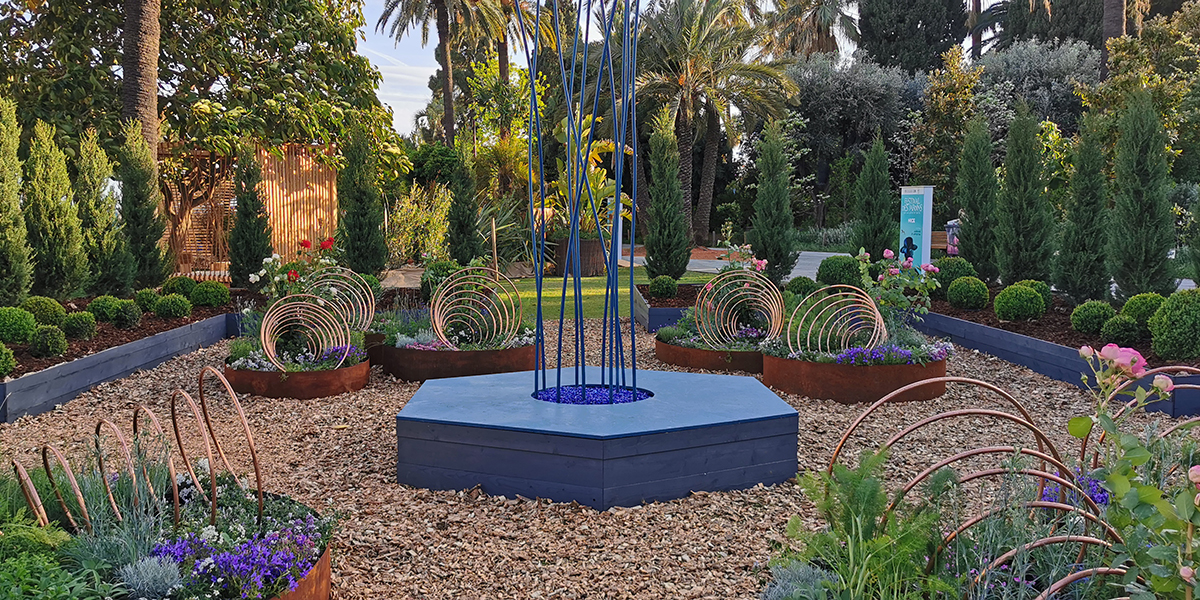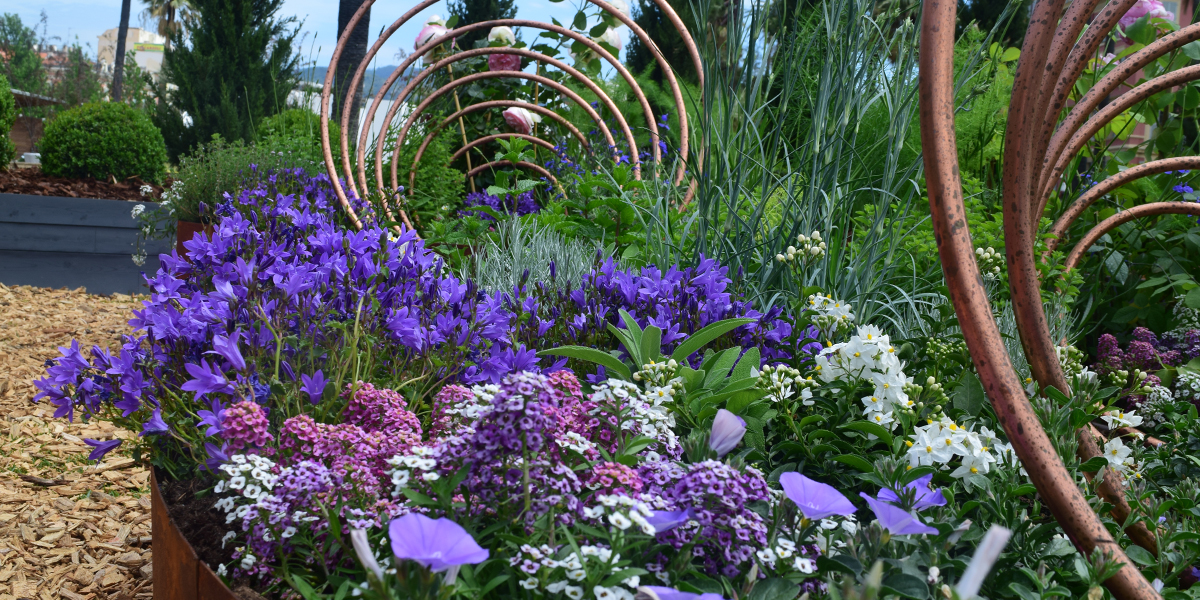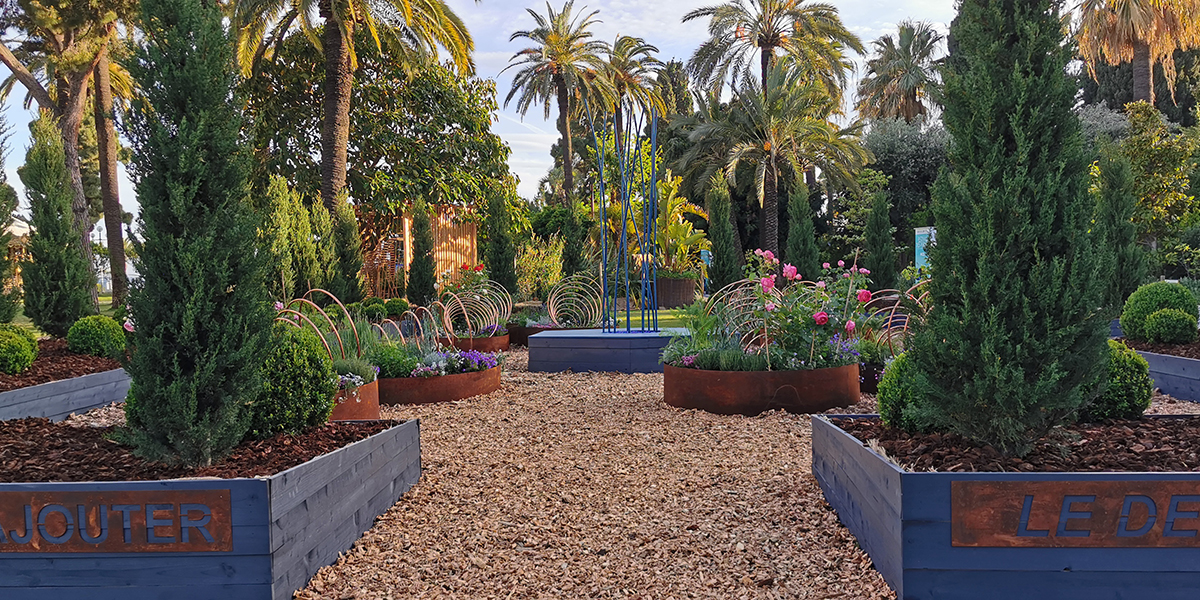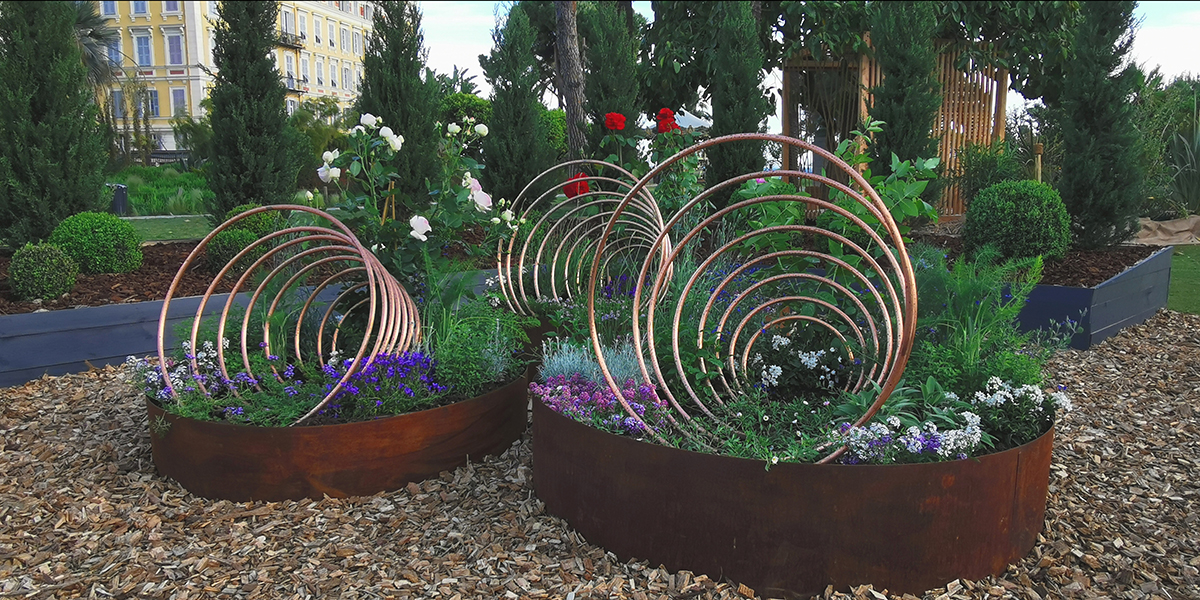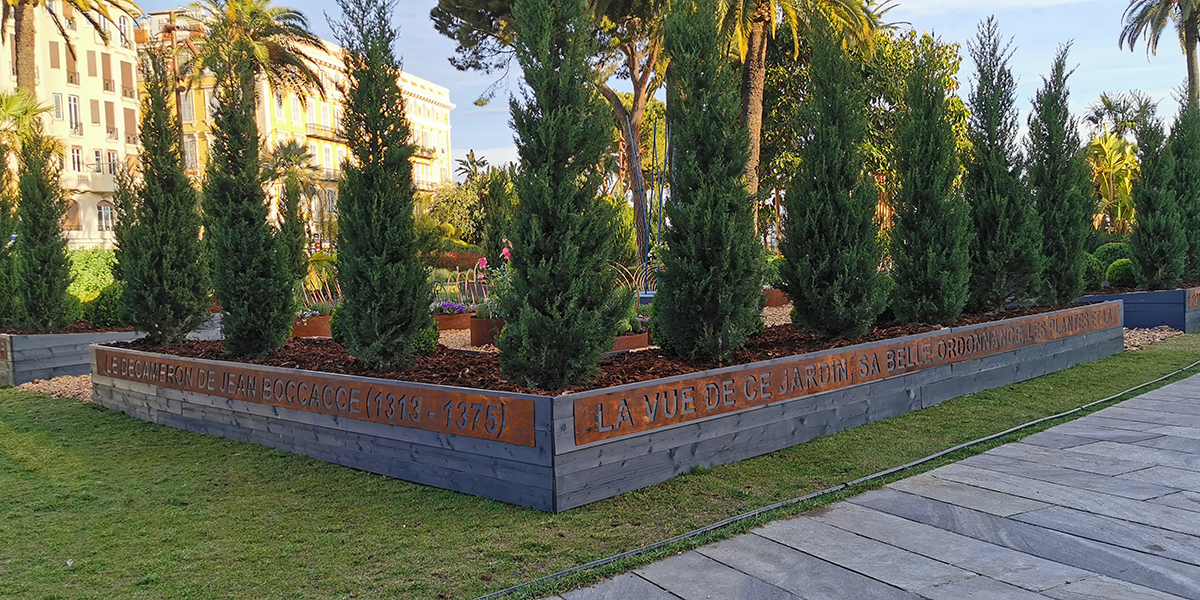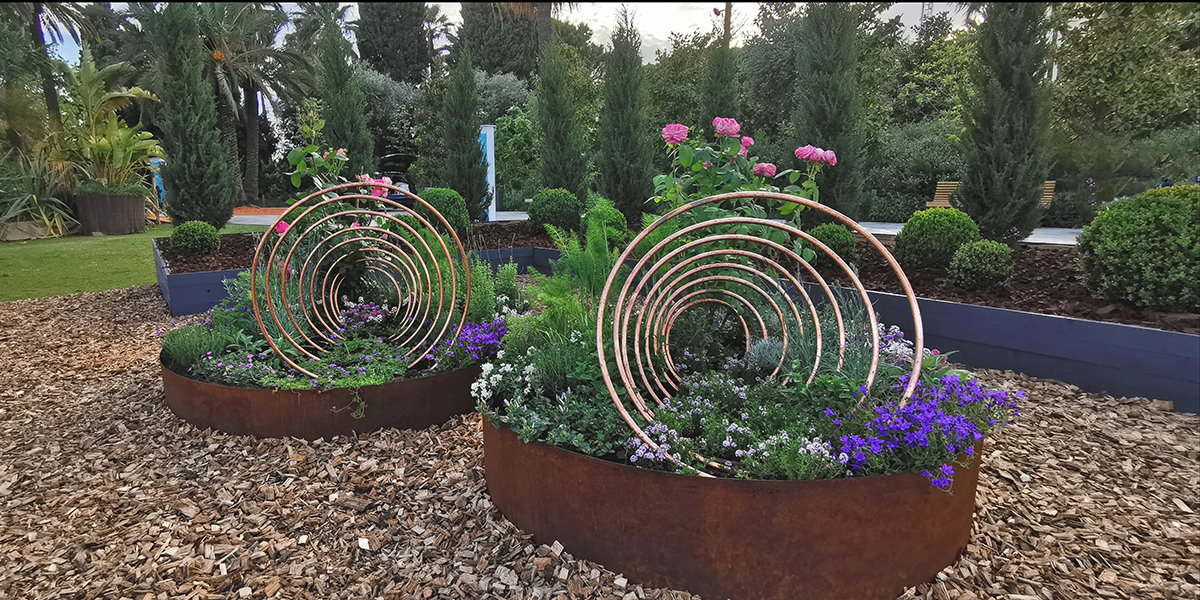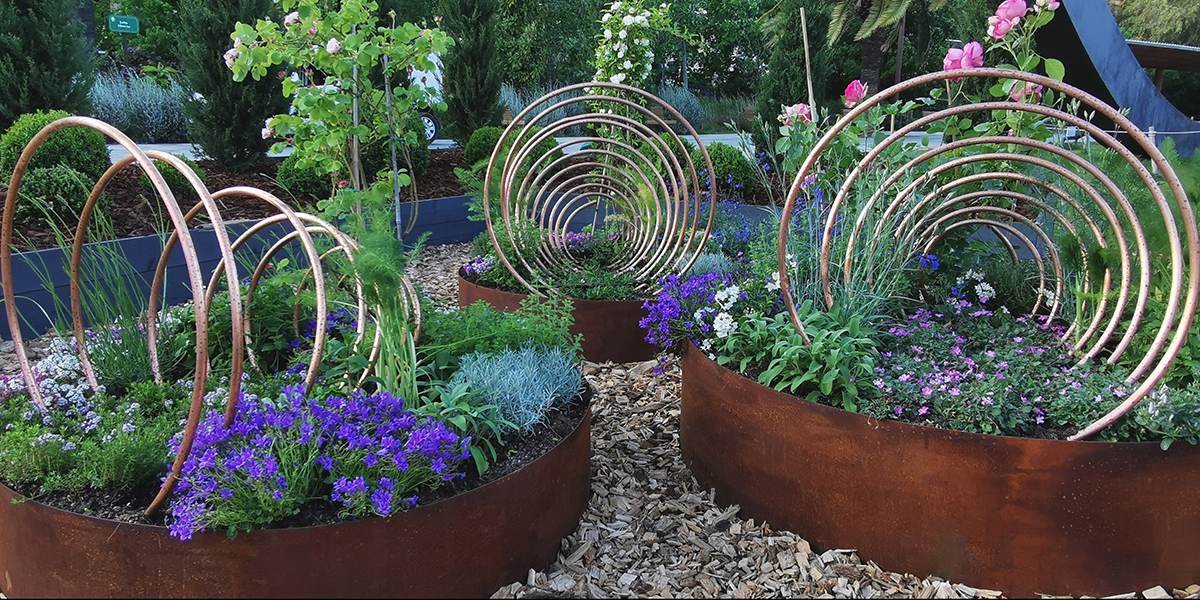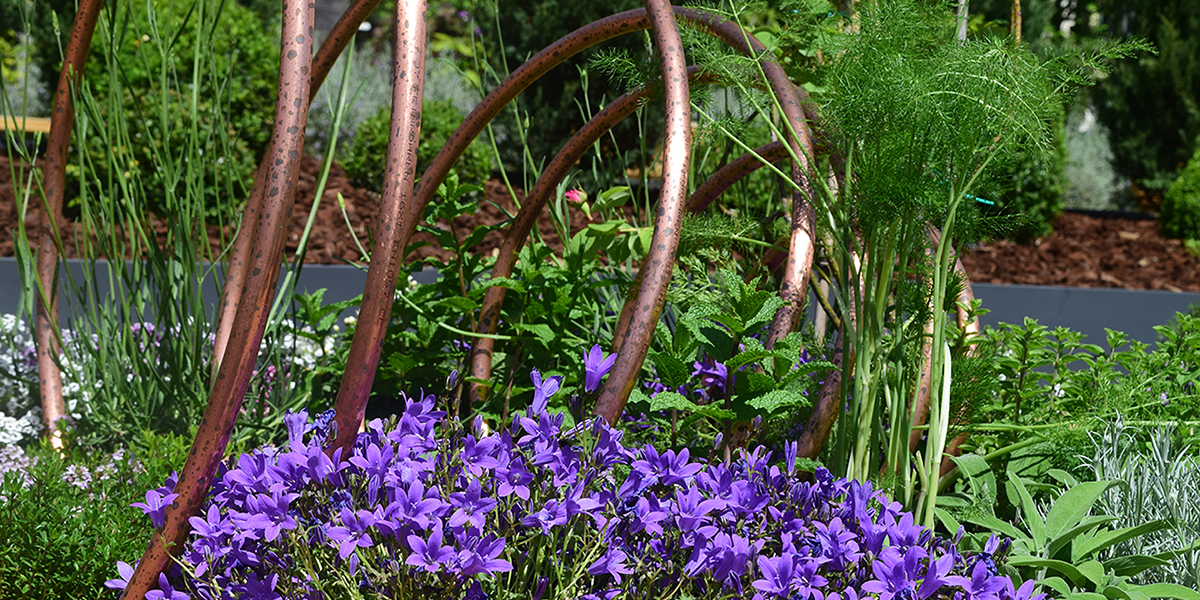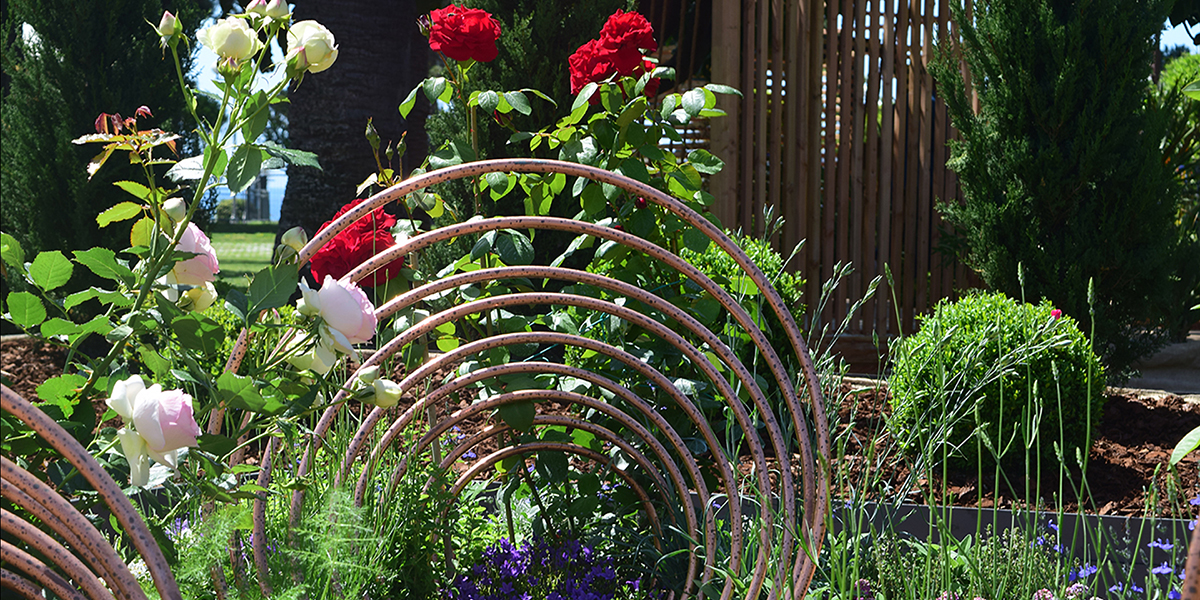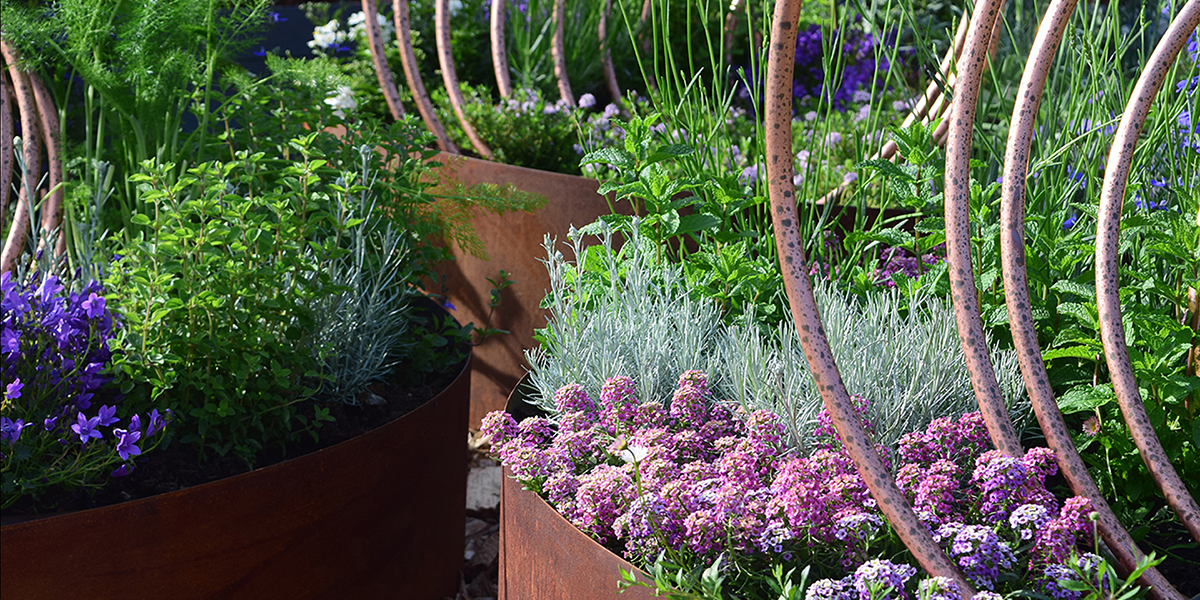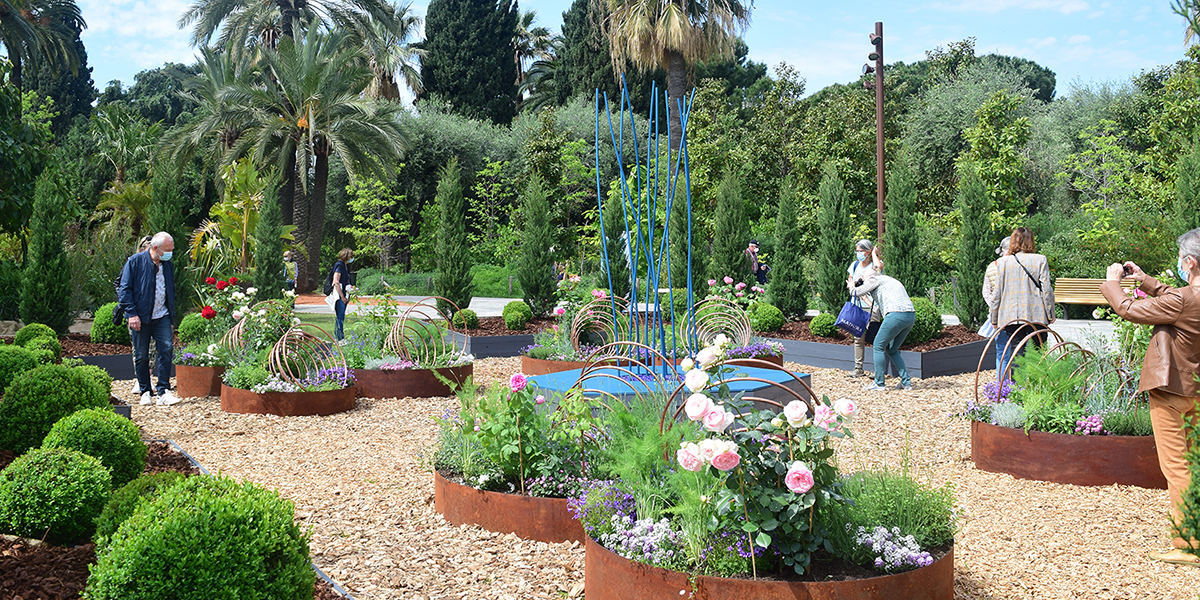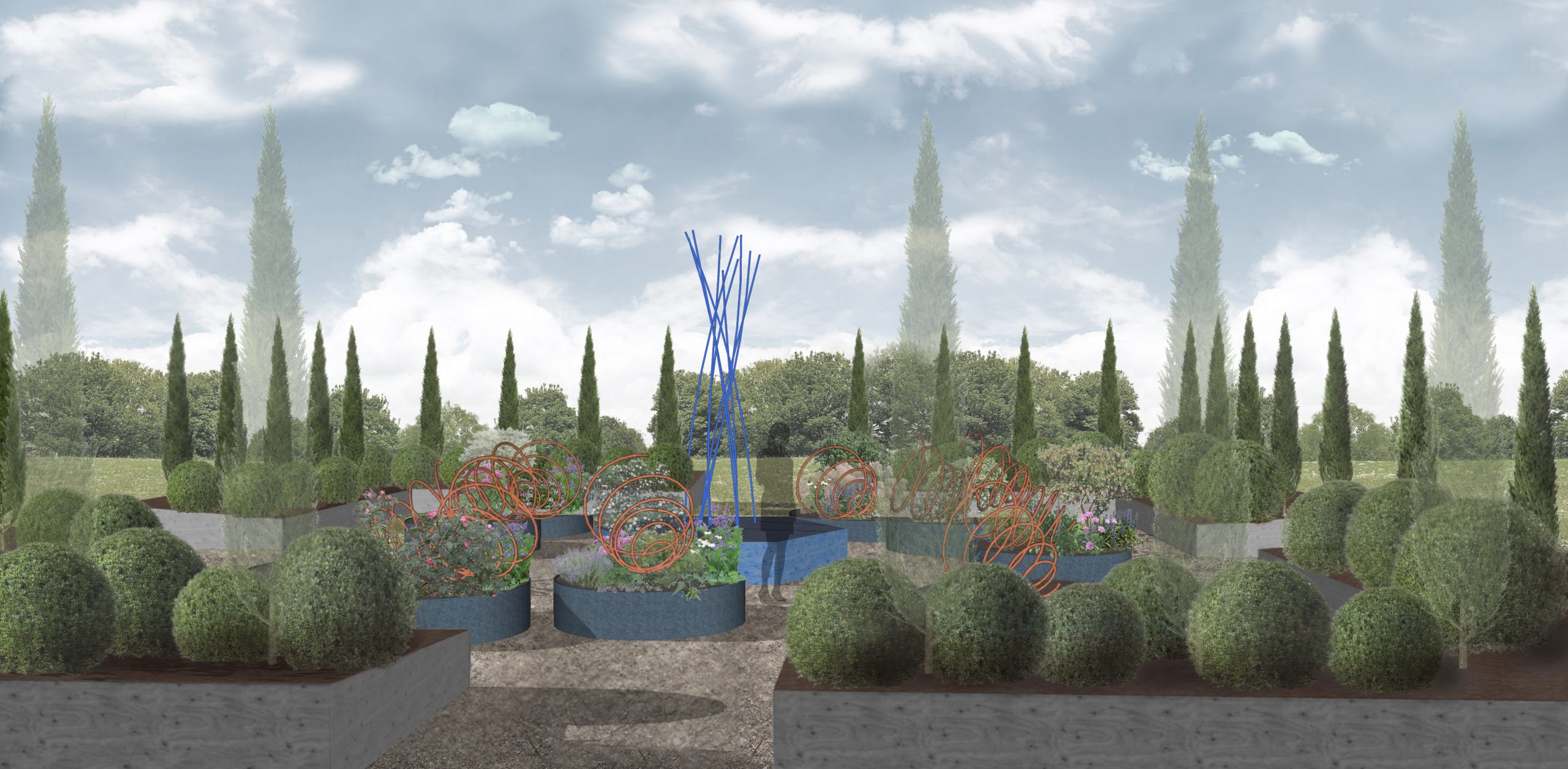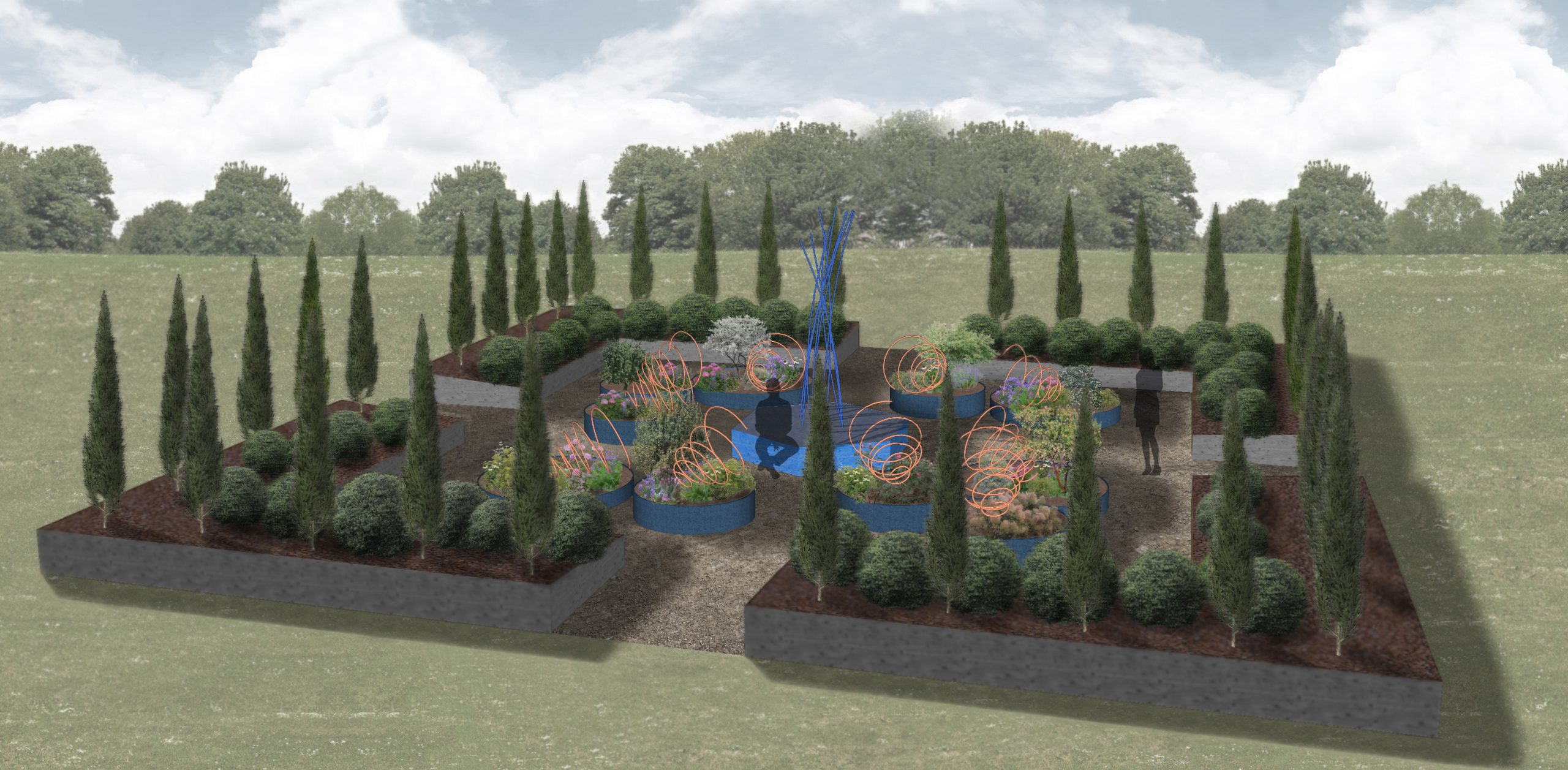 2020_07_03 Rendering01ESE
2020_07_09 Rendering02ESE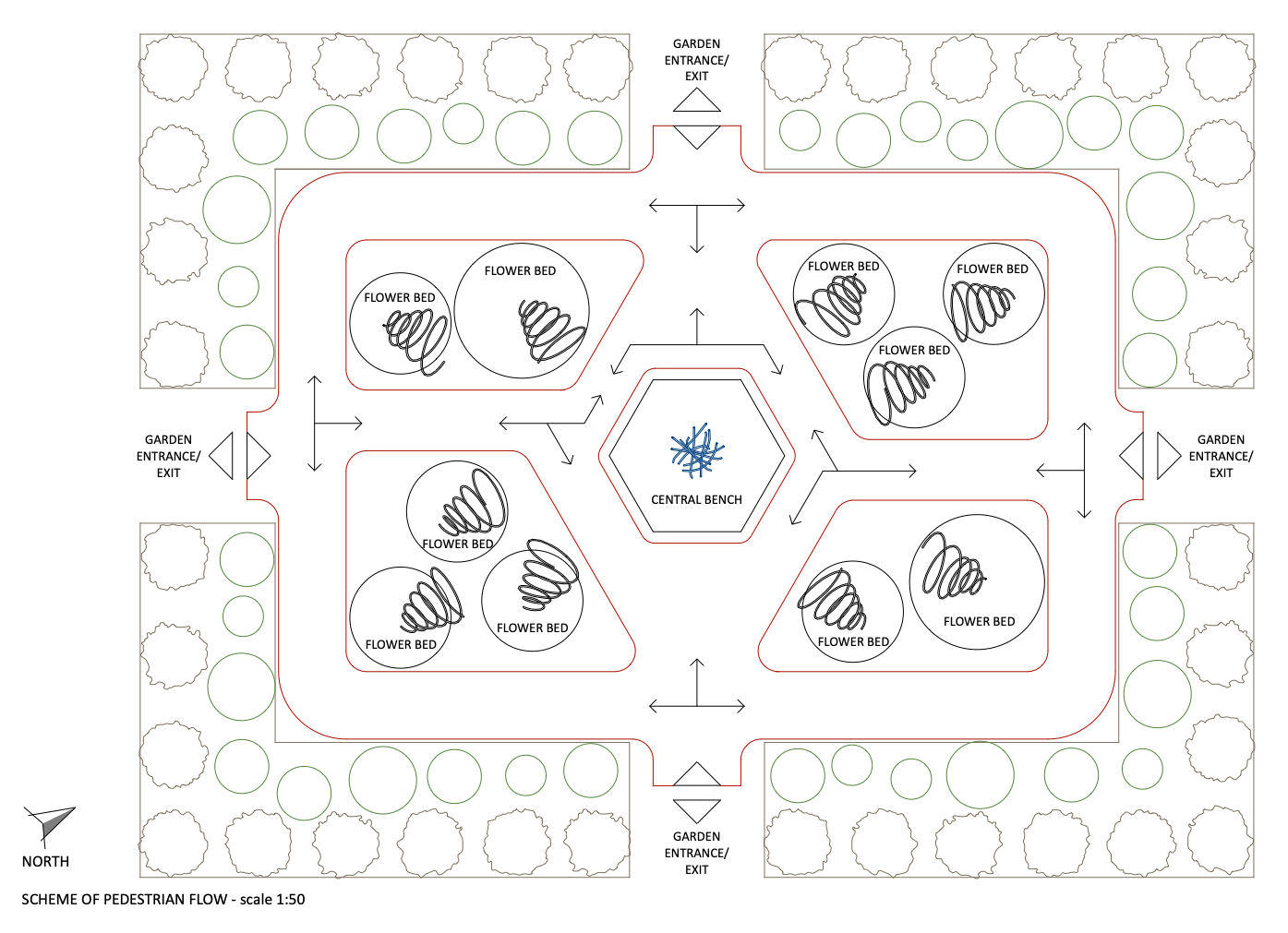 Four paths cross to the garden. They are arranged orthogonally and cross at the center in the symbolic representation of the hexagonal fountain described by Boccaccio, which becomes here a place to sit and contemplate the garden.
Water symbolically flows from ten spouts, depicted by sinuous painted metal tubes placed in the center of the hexagonal bench: for their height they are visible from outside the garden, becoming the 'landmark' of the project.
The ten raised circular borders around the central fountain ideally represent the ten young people who, in this garden, become ten plants narrating their story: each voice materializes in a copper spiral that represents the flowing of the words that they spread to reach every part of the garden.
Ten protagonist plants stand out in their circular border, surrounded by a perennial herbaceous plantation that forms a single flowery and aromatic and rich in colors and textures parterre.
All the essences, typical of a medieval garden, have been selected for spring flowering, the texture of their leaves and shape, so to make harmonious the overall vision.

Particular attention was paid to the design of the four paths and the accessibility of the space to people with disabilities, eliminating stumbling edges and ensuring the minimum width of 1 meter of the paths.
In Boccaccio's masterpiece, at the end of their stay in the villa, the ten young people, returned to their everyday life refreshed in spirit: in the same way we would like visitors, leaving the garden, will bring with them a message of hope and peace generated by the intimate connection between the storytelling plants and the human soul listening.
.
.
Our garden will be built thanks to three leading companies who believe in our project